Pixel Berry Pie is an awesome blog! And, it doesn't hurt that the owner also has an Etsy shop with great graphic prints. We were so excited when we got the news that we were going to do a giveaway on the Pixel Berry Pie blog. Head on over to fill out the super-simple form (yay for Rafflecopter!) and you could be our lucky winner!
http://pixelberrypiedesigns.blogspot.com/2012/01/giveaway-25-shop-credit-two-bees.html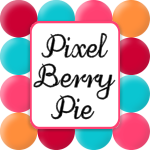 Since it is part of the Toast to 2012 New Year's Giveaway Hop, the site also links to some other cool giveaways, too!